Leipzig
is a vital city with an outstanding history and a roaring cultural and scientific life. Visitors to Leipzig are happily surprised again and again by wonderful sights, plenty of extraordinary shops, various leisure activities, Leipzig's history and legends. Most of all Leipzig's guests are amazed by the legendary Saxon hospitality. Leipzig: the warm-hearted city with its finger on the pulse of the times. Leipzig is well connected to international airways, high-speed trains and autobahn.
TMRA'05 takes place in
"The Westin".
In the heart of the city you will find The Westin Leipzig. Just a few minute's walk from here, there are the rail terminus with its famous shopping esplanades, the city centre with the Leipzig Opera House, Gewandhaus and St. Thomas's Church, the world-famous Barfußgässchen and the Leipzig Zoo.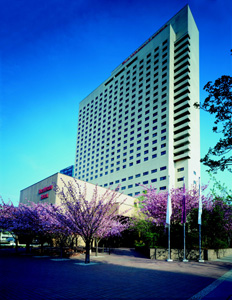 Special Rates:
The Westin provides special rates for attendees of TMRA'05 (single room: 83 EUR, double room: 98 EUR, all prices incl. breakfast). Please contact us to get information about how to get the rates ...
Furthermore Leipzig provides a wide range from top class hotels over business hotels to youth hostels. For your convenience an accomodation in downtown Leipzig is recommended. For further information please contact the
tourist office
. Alternatively, use an online booking service like
HRS
.
Travelling by airplane
Leipzig is connected to the international airway network. If you arrive from abroad, in most cases you have to change in Frankfurt/Main or Munich. Low cost carrier supply connections from London. The
Leipzig airport (LEJ)
is connected to the low priced urban railway which takes 20 minutes to the central station. A taxi takes 30 minutes to downtown Leipzig (approx. 15€-20€).
Travelling by train
Leipzig is connected to the German high-speed train (ICE) network. The central railway station is situated in downtwon Leipzig. All accomodations in downtown Leipzig are in walking distance to the railway station.
For accomodations outside of downtown Leipzig provides a good tram network. For schedule information use the services of
German railway
and the local mass transit company
LVB
.
Travelling by car
Leipzig is well connected to the German highway network (A9, A14, A38).
---
If you are interested in the TMRA series please subscribe to the newsletter at the TMRA 2006 website.
---
TMRA'05 is chaired by Lutz Maicher. Please see the
program committee
.
Author: Lutz Maicher. Last update: 14.09.2005