The Wartburg 311 Gallery


This is going to be the first webpage about the famous car Wartburg 311 designed by Hans Fleischer. And here are the topics
impressions from the classic car meeting at Dornburg
Overview, pictures from the different types of the Wartburg 311 series
The first Wartburg 312/300 HT (it's a Cabriolet) with a 4 stroke, 1300 ccm engine from Volkswagen AG.
For sale, base frame of a W312/300 HT with all special body sheets
Contact, list of well-known Wartburg 311 fan clubs,
more links to read on
Recently I started a second project about the cars produced in Eisenach before the Wartburg models came out. One can already see a first sketch of the EMW-Fan-Page.

I have also an old motorbike from MZ. Reconstruction has been finished. You can watch it here (page in german).
---
There are more than 8 different models(shapes) from the Wartburg 311 series. Only few are listed here and some photos are missing. If you can provide additional information or pictures in computer readable format please contact the maintainer of this page.

Kombiwagen

Pickup,
more photos #1 #2 #3

Cabriolet

Sportcoupe 313

Coupe,
more photos #1

Camping

Limousine
Thanks to Michael Kröger who supplied the images of the Pickup and the Cabriolet.
---
At these pictures one can see my father's Wartburg 312/300 HT Cabriolet. The first three photos were taken during restauration. They show the way how the 4 stroke engine from Volkswagen AG is built into the car. The original base frame from a Wartburg 1.3 was taken. The engine was placed and then the chassis was mounted onto the base frame. The second two pictures show the Cabriolet after reconstruction.
---
This parts of a Wartburg 312/300 HT can't be deposited any longer so we have to sell it. Its a complete original chassis from a W312/300 HT (HardTop) with axles, engine with carbureter and heat exchanger, gear, (spiral) springs, antishock, wheels and all necessary body sheets to rebuild the car. If somebody likes to reconstruct this car, please inform the maintainer of this page.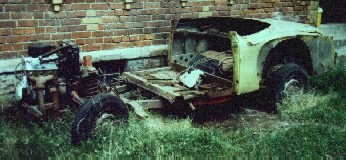 ---
Carsten Schrötter maintains also a market page for Wartburg spare parts.
---
---
Links
Only links to other documents dealing with the Wartburg 311 are mentioned here. Probably there are many more of them out there, but my favorite web-crawlers haven't found them. (Do they use <META> tags ? ;-)

There are some more Links, not only about the W311 but also about the W353.
---









maintained by Thomas Pantzer ,
mailto pantec@aix520.informatik.uni-leipzig.de,
PGP public key available